Duration:
2 Days (16 Hours)
AMMUNITION:
1000 rounds SMG
100 rounds handgun
DESCRIPTION
Are carbines more capable? Probably. But who cares. The 80's were awesome, and SMGs were king back then for CQB, counter-terrorism, and hostage rescue. Bring your semi-auto MP5 clone and come have fun with us. Nomex and Avon gas masks, or white tank tops are all optional, but bonus points if you bring a Beretta 92F as your sidearm.
SMG Operator is designed to provide the intermediate level student with a systematic approach to SMG/MP5 clone marksmanship, manipulations, and employment. Our curriculum is progressive in format, with each component skill laying the foundation for the next leading to a well-rounded combat SMG shooter.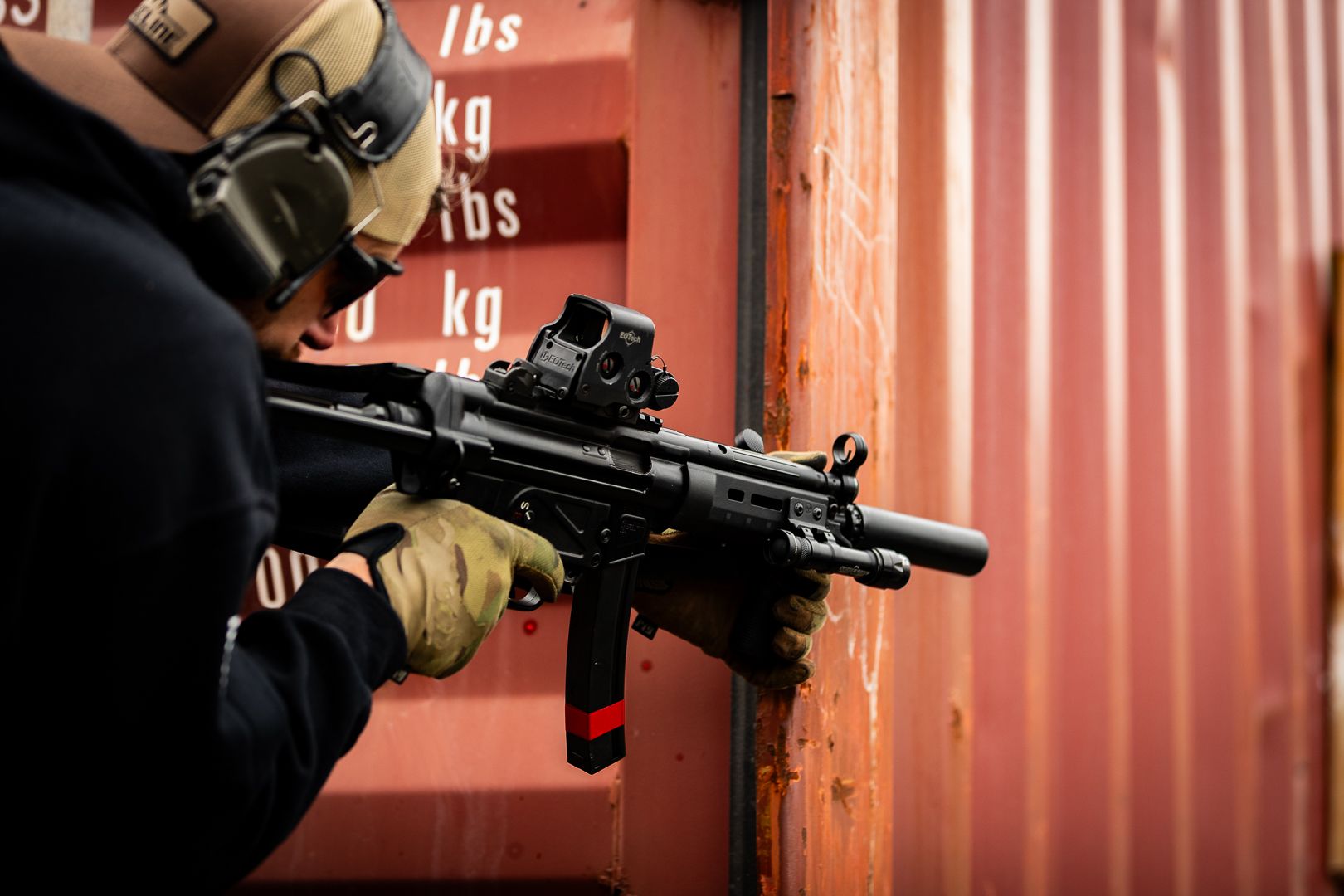 PREREQUISITE / NEXT COURSE:
Prerequisite: This is a Fundamental Skills course. Ridgeline fundamental skills courses have been designed to lay a strong foundation for core skills with the firearm. These courses provide a high degree of instruction and coaching on basic skills. Safe handling skills, such as being able to safely draw, holster and reload are mandatory in attending this course. General safe firearms handling is expected of all students.
Subjects Covered:
Gear Selection and Setup
Sight/Optic Zeroing
Fundamentals of SMG Marksmanship
Ready Positions
Loading/Unloading/Reloading Procedures
Malfunction Clearance Techniques
Multiple Target Engagement
Transition to Handgun
Shooting on the Move
Use of Cover/Barricades
Cleaning and Maintenance
Equipment List:
SAFETY:
Eye Protection
Ear Protection
FIREARM REQUIREMENTS:
SMG or Clone (HK MP5/SP5, PTR 9CT, SIG MPX, etc.)

Red Dot Optic Recommended
2-point sling
5 x 30 round magazines

Handgun
EQUIPMENT REQUIREMENTS:
Belt
Holster
Pistol Magazine Pouches
Athletic/Outdoor Footwear
Weather Appropriate Clothing/Gloves (Cold/Rain/Mud)
Note Taking Material
The Previous Items are REQUIRED
SUPPORT GEAR:
Knee Pads
Gun Cleaning Kit
Gun/Sight Tools
Batteries for RDS
Batteries for Ear Pro
Anti-Fog for Eye Pro
NICE TO HAVES:
Sun Block
Chapstick
Insect Repellent
Handwarmers
Cooler with drinks
Lunch/Snacks
Camp Chair/Stool