Duration:
5 Days (40 Hours)
DESCRIPTION
New for 2024, Full Spectrum Pistol is meant for the shooter looking to build serious confidence and skill with their Semi-Automatic Pistol. The additional time provided allows for us to deep dive topics covered in our advanced and low-vis pistol courses as well as push into performance-based stages.
Want to see available dates and purchase this course?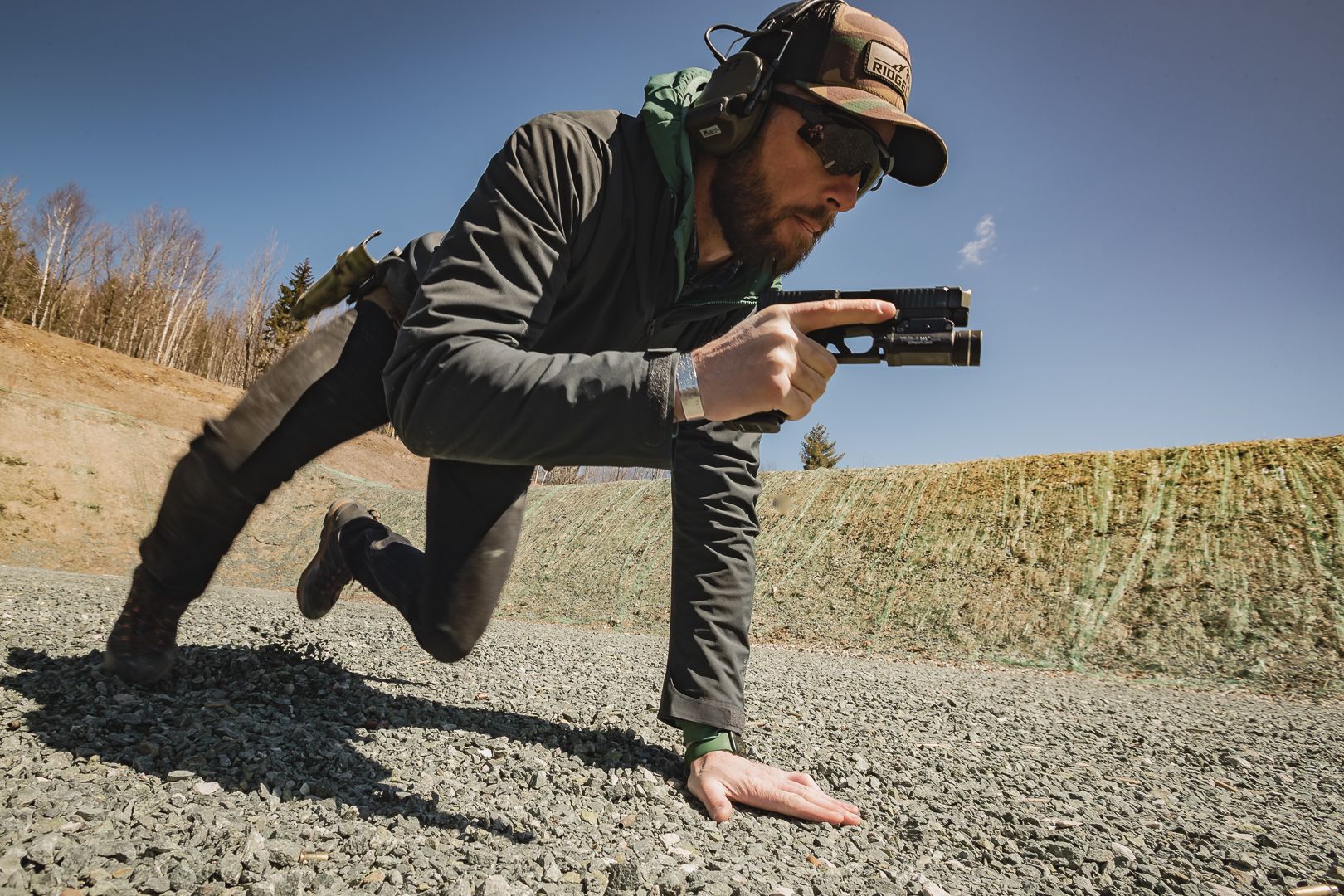 PREREQUISITE / NEXT COURSE:
Prerequisite: This is a Fundamental Skills course. Ridgeline fundamental skills courses have been designed to lay a strong foundation for core skills with the firearm. These courses provide a high degree of instruction and coaching on basic skills. Safe handling skills, such as being able to safely draw, holster and reload are mandatory in attending this course. General safe firearms handling is expected of all students.
Next Course: Following graduation of this course students should consider booking a private training with Ridgline as a next step in their progression. Please send an email to training@ridgleinedefense.com for more information on private courses.
Subjects Covered:
Equipment selection (OWB/IWB/AIWB)
"Shooter solution" development
Weapons handling and presentations
Mastering the draw
Reloads (slide-lock and tactical)
Multiple target engagements
Shooting on the move and in depth, including turning
Weapons handling for close quarters (CQB/CQC)
Alternate shooting positions – organic/non organic, environmental considerations
Use of cover/Utilizing barricades
Malfunction clearance
Injured shooter/Support side actions
Introduction to no/low light shooting
Clothing selection
Mastering the concealed draw stroke
Reloads from concealment
Malfunction clearance
Injured shooter techniques
Performance pistol review
Pre assault cues
Fighting in and around vehicles
Utilization of cover and concealment
Individual movement techniques
Holster – Duty/retention style
Holster – concealment style
Equipment List:
SAFETY:
Eye Protection
Ear Protection
FIREARM REQUIREMENTS:
Handgun (Sub-Compact not recommended)
(4) Magazines
INDIVIDUAL EQUIPMENT:
Belt
Holster
Magazine Carriers
Athletic/Outdoor Footwear
Weather Appropriate Clothing/Gloves (Cold/Rain/Mud)
Note Taking Material
The Following Items are ALLOWED and/or RECOMMENDED
SUPPORT GEAR:
Knee Pads
Gun Cleaning Kit
Gun/Sight Tools
Batteries for RDS
Batteries for Ear Pro
Anti-Fog for Eye Pro
NICE TO HAVES:
Sun Block
Chapstick
Insect Repellent
Handwarmers
Cooler with drinks
Lunch/Snacks
Camp Chair/Stool