Duration:
1 Day (8 Hours)
AMMUNITION:
700 Rounds Rifle (FMJ)
DESCRIPTION
Ridgeline is pleased to provide our clients with the once in a lifetime opportunity to learn aerial interdiction techniques while aboard a MD600N (#LittleBird). In this one-day course, students will fly (8) missions totaling over 1-hour of flight time per student. Each flight will increase in complexity as students take techniques taught in the classroom and immediately put them into practical application. Following each flight the students will be individually debriefed and ground training conducted in preparation for the next mission, culminating in a final scenario based exercise.
Want to see available dates and purchase this course?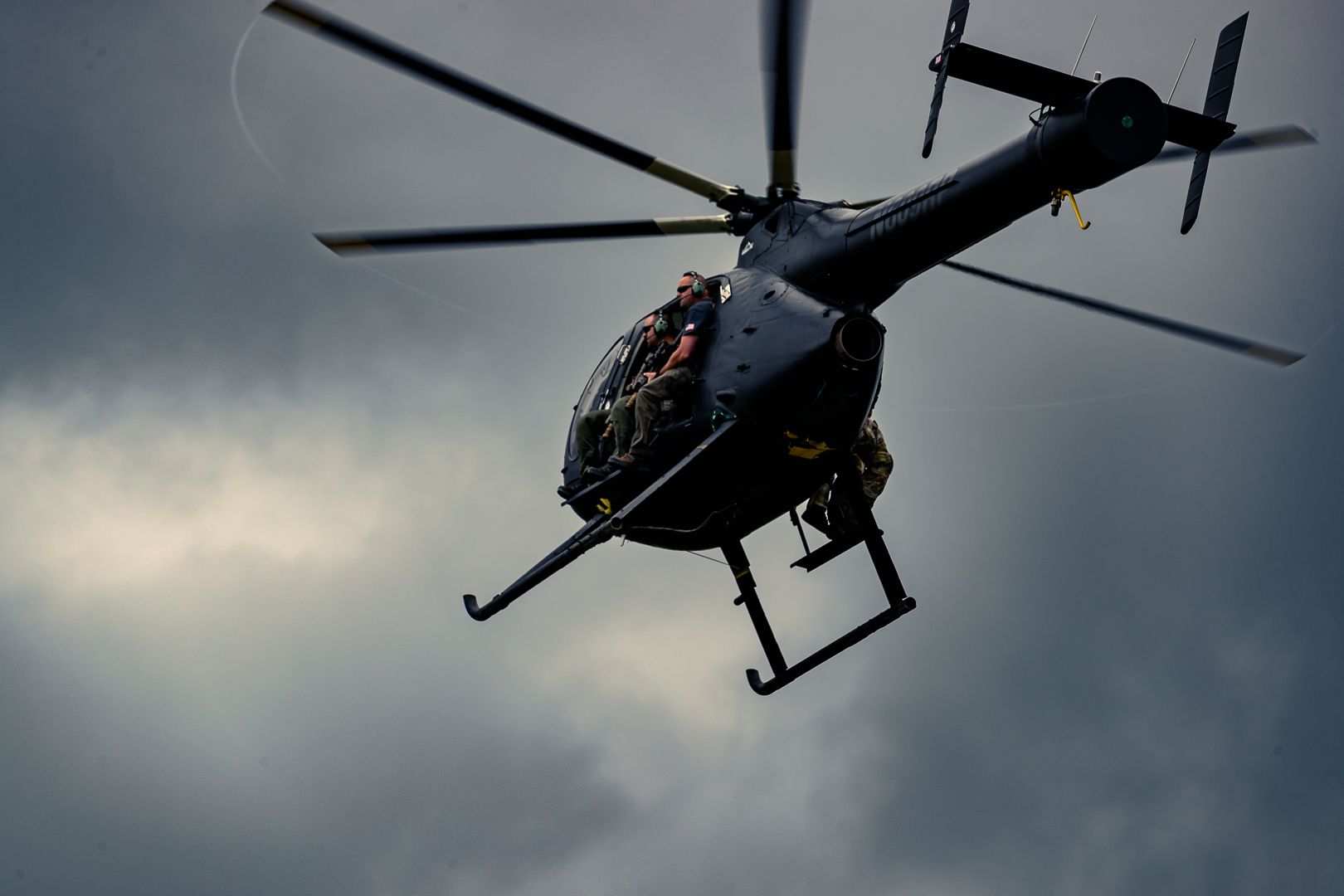 PREREQUISITE / NEXT COURSE:
Prerequisite: This is a Unique Experience course. This course, put on in partnership with Last Shadow TX, is designed to provide the unique experience of shooting from an aerial platform and learning the fundamentals of aerial operations. To maximize student flight time this course is being limited to just 8 students per class date. Students should be extremely confident in their abilities, equipment and fundamentals if they plan to attend this class. All students are expected to conduct safe operations.
Subjects Covered:
Gun and Equipment Setup
Aircraft Safety/Emergency Procedures
Aircraft Control and Communications
Aerial Platform Firing Techniques

Rigging
Positions
Lead/Lag/Holds
Equipment List:
SAFETY:
Eye Protection
Ear Protection
FIREARM REQUIREMENTS:
Semi-Automatic Rifle w/RDS or LPVO (Cal. .223/5.56, .300BLK, 7.62×39, .308/7.62mm ONLY)
Suppressors are HIGHLY encouraged
2 point Sling
(4) 30rd Magazines
INDIVIDUAL EQUIPMENT:
Low Profile Chest Rig or Equivalent, capable of holding min (3) 30rd Magazines
Battle belts will NOT be worn in the aircraft
Athletic/Outdoor Footwear
Weather Appropriate Clothing/Gloves (Cold/Rain/Mud)
Note Taking Material
The Following Items are ALLOWED and/or RECOMMENDED
SUPPORT GEAR:
Gun Cleaning Kit
Gun/Optic Tools
Batteries for LPVO/RDS
Batteries for Ear Pro
Anti-Fog for Eye Pro
NICE TO HAVES:
Sun Block
Chapstick
Insect Repellent
Handwarmers
Cooler with drinks
Lunch/Snacks
Camp Chair/Stool