Duration:
2 Days (16 Hours)
AMMUNITION:
1000 Rounds
(*No Green Tip Ammo*)
DESCRIPTION
The Recce Carbine program of instruction is built around a 14.5-16" General Purpose Carbine equipped with a Low Power Variable Optic such as 1-4x, 1-6x, or 1-8x (ACOG and/or RDS + Magnifier is permitted), without a bipod, firing non-match ammunition (FMJ). Students start by learning to deliver the maximum accuracy of their system at speed, before moving on to modules that focus on alternate positions, advanced sling techniques, moving target engagements, and runs through the Ridgeline Assault Course.
Students will progressively be introduced to subjects such as utilizing cover and barricades, advanced sling techniques and alternate shooting positions. Utilizing paper, steel target arrays and moving targets, shooters will be challenged to engage multiple targets from varying positions while still performing fundamental tasks at a high level of competence.
Want to see available dates and purchase this course?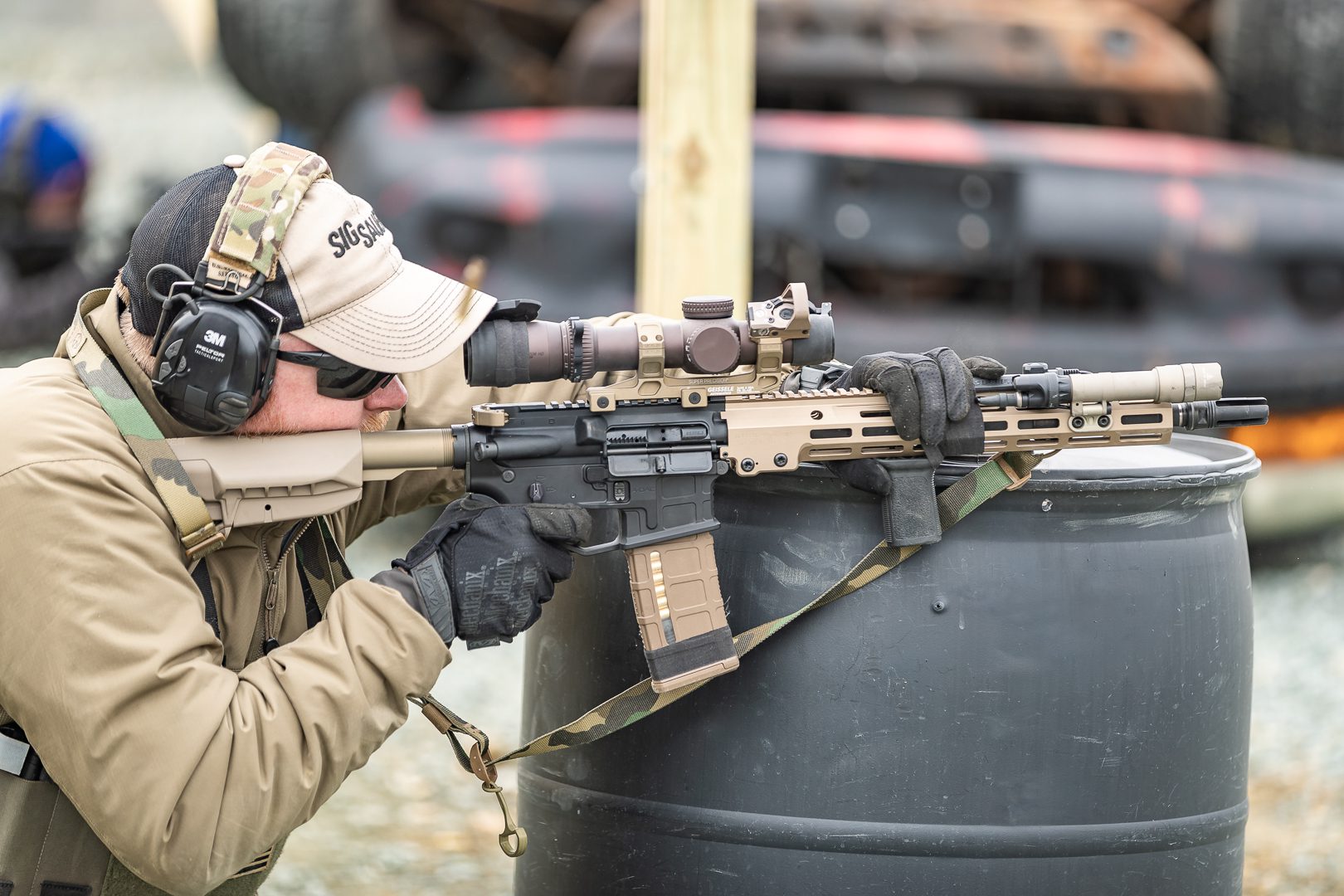 PREREQUISITE / NEXT COURSE:
Prerequisite: This is a Skills Enhancement course. Ridgeline skills enhancement courses have been designed to place shooters in new positions, challenge durability of position and fundamentals, and improve speed and marksmanship. These courses provide less step by step instruction on basic skills with a higher emphasis on coaching to push boundaries and overcome obstacles so the student may achieve new levels of performance. This is not an entry level course. Safe handling skills, such as being able to safely load, unload, reload, clear malfunctions and present a carbine safely are expected in this course. General safe firearms handling is expected of all students.
Next Course: If you are not confident in meeting the prerequisite for this course check out our Combative Carbine course to build the skills necessary to join this class. Following graduation of this course students should consider Ridgeline's other Skill Enhancement carbine courses of CQC Carbine and Scoped Carbine.
Subjects Covered:
Equipment selection
Rifle setup
Zeroing
Fundamentals of carbine marksmanship
Snap shots
"Shooter solution" development
Shooting on the move and in depth, including turning
Cover and concealment
Advanced sling techniques
Alternate shooting positions – supported and unsupported
Unknown distance engagement's 100-400+ yards
Hasty wind correction
Equipment List:
SAFETY:
Eye Protection
Ear Protection
FIREARM REQUIREMENTS:
Carbine with LPVO (Red Dot Sight with Magnifier and/or ACOG Permitted)
2 Point Sling
(4) Magazines
INDIVIDUAL EQUIPMENT:
Belt
Magazine Carriers
Athletic/Outdoor Footwear
Weather Appropriate Clothing/Gloves (Cold/Rain/Mud)
Note Taking Material
The Following Items are ALLOWED and/or RECOMMENDED
SUPPORT GEAR:
Knee Pads
Chest Rig for Additional Magazines
Gun Cleaning Kit
Gun/Optic Tools
Batteries for RDS/LPVO
Batteries for Ear Pro
Anti-Fog for Eye Pro
NICE TO HAVES:
Sun Block
Chapstick
Insect Repellent
Handwarmers
Cooler with drinks
Lunch/Snacks
Camp Chair/Stool
All course purchases are final and subject to Ridgeline's Terms and Conditions that include a no cancellation/no transfer policy.
All course purchases are final and subject to Ridgeline's Terms and Conditions that include a no cancellation/no transfer policy.