Duration:
5 Days (40 Hours)
AMMUNITION:
600 Rounds Rifle
200 Rounds Pistol
200 Rounds Match (Snipers Only)
10 LLIM (If Issued)
400 Rounds UTM/SIM – Rifle
100 Rounds UTM/SIM – Pistol
DESCRIPTION
The Ridgeline Night Vision Operator Course is designed to assist SWAT and Advanced Capability Patrol Officers with full spectrum integration of Night Vision Devices and required support equipment into the Law Enforcement tactical mission set.
Want to see available dates and purchase this course?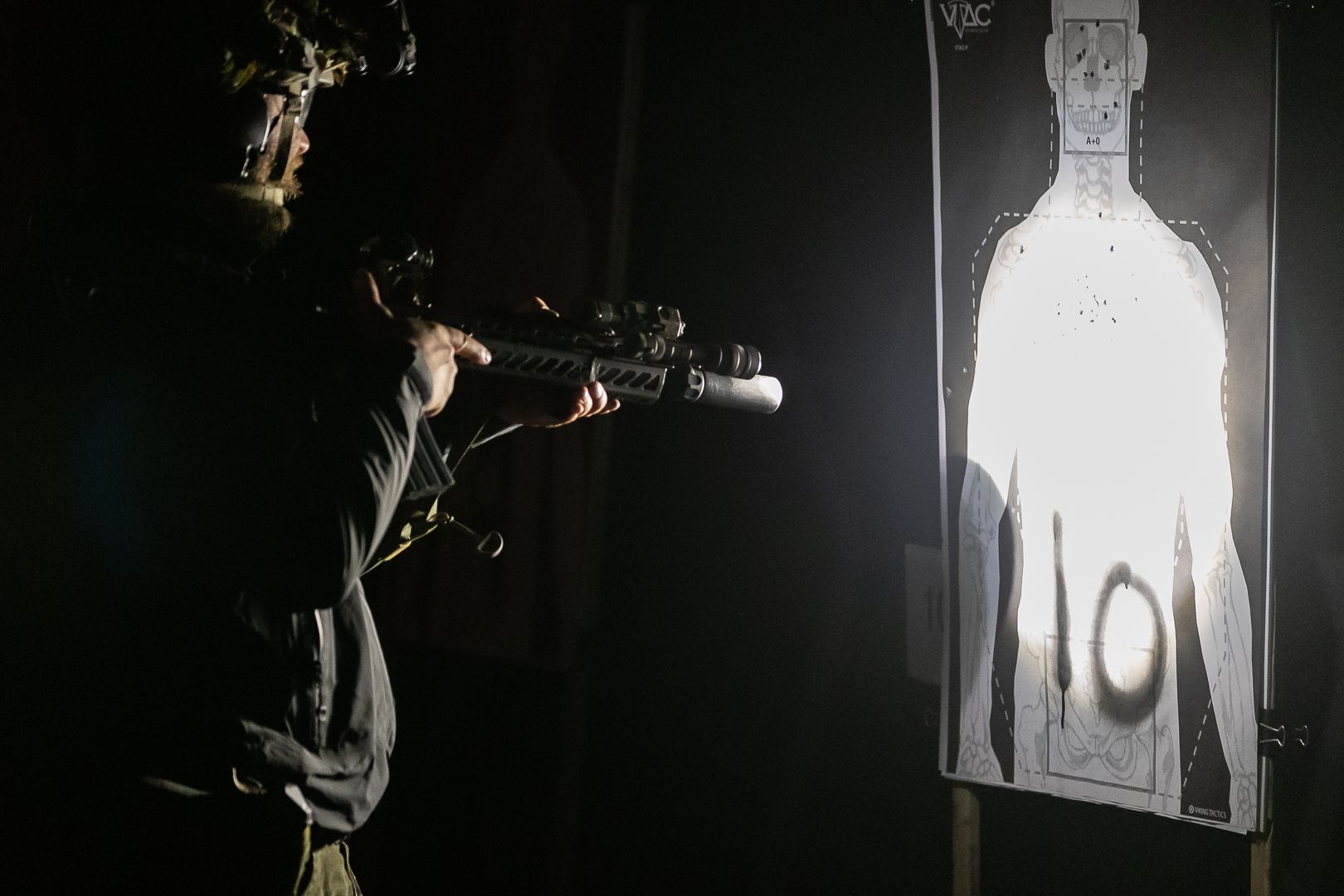 PREREQUISITE / NEXT COURSE:
Must be ACTIVE Law Enforcement Officer, Military Personnel, or credentialed Government Contractor. Should be a graduate of a Basic SWAT course.
Subjects Covered:
Night vision theory

Optic manipulation
Laser manipulation & laser zeroing
Manipulating the environment

Individual equipment set up
Rifle/Handgun/SWS/DM Rifle/LLM Launcher set up
Night carbine operation

Low/No Light fundamentals
Loading/Reloading
White light integration

Night pistol operation

Low/No Light fundamentals
Rifle to pistol transitions
White light techniques

Combative application

Individual movement techniques
Working cover/terrain
Self-aid

CBRN/Chemical agent deployment under NODS
LLIM employment and transition
Rural movement/Small unit tactics
Armored vehicle operations under NODS

Rigging
Driving
Rescues
Port and turret firing
Breaching
Gas injection

K9 integration
TECC under NODS
Patrol/UCC vehicle NV techniques

Rigging for night operations
Driving with NODS

Close quarters tactics and techniques/Structure clearance
Breaching
NOD pistol qual
NOD rifle qual
NV employment during SWAT mission profiles

HR
Barricades
High risk arrests

Shaping the tactical environment to maximize NV equipment advantages
Mission planning with NOD integration
Culmination scenarios/FOF
Fracticide prevention/Signaling/Integration of aerial assets
Equipment List:
FIREARM REQUIREMENTS:
Rifle with Optic, Weapon Light, Sling
Full Power IR Laser/Illuminator (i.e. MAWL, NGAL, PEQ-15, LA5)
Handgun with Red Dot Sight, Weapon Light
(IR capable weapon light recommended but not required)
Snipers: SWS with clip on, in line night vision system
(i.e. CNVD-LR, PVS-27, etc)
Issued Less-Lethal Launcher/Shotgun
(Red dot optic strongly recommended)
INDIVIDUAL EQUIPMENT:
Minimum (4) Magazines per Platform
Plate Carrier
Duty Belt
Assault Pack
Helmet with NV mount
Night Vision Device
(recommended binocular i.e. PVS-31, but single tube i.e. PVS-14 is acceptable)
The Following Items are ALLOWED and/or RECOMMENDED
NICE TO HAVES:
Knee Pads
Sun Block
Chapstick
Insect Repellent
Handwarmers
Cooler with drinks
Lunch/Snacks
Camp Chair/Stool