Duration:
2 Days (16 Hours)
AMMUNITION:
1000 Rounds Carbine (*No Green Tip Ammo*)
DESCRIPTION
Combative Carbine is designed to provide the intermediate level student with a systematic approach to carbine marksmanship, manipulations and employment. Our curriculum is progressive in format, with each component skill laying the foundation for the next leading to a well-rounded combat carbine shooter. This course focuses on the Rifleman's area of responsibility (0-300 yards).
Students will engage in multiple repetitions as they hone skills like carbine presentations, sling usage, malfunction clearances, and alternate shooting positions. These skill learnings will be amplified by the ability to utilize not just paper targets but multiple steel target arrays and challenging drills provided by the cadre.
Want to see available dates and purchase this course?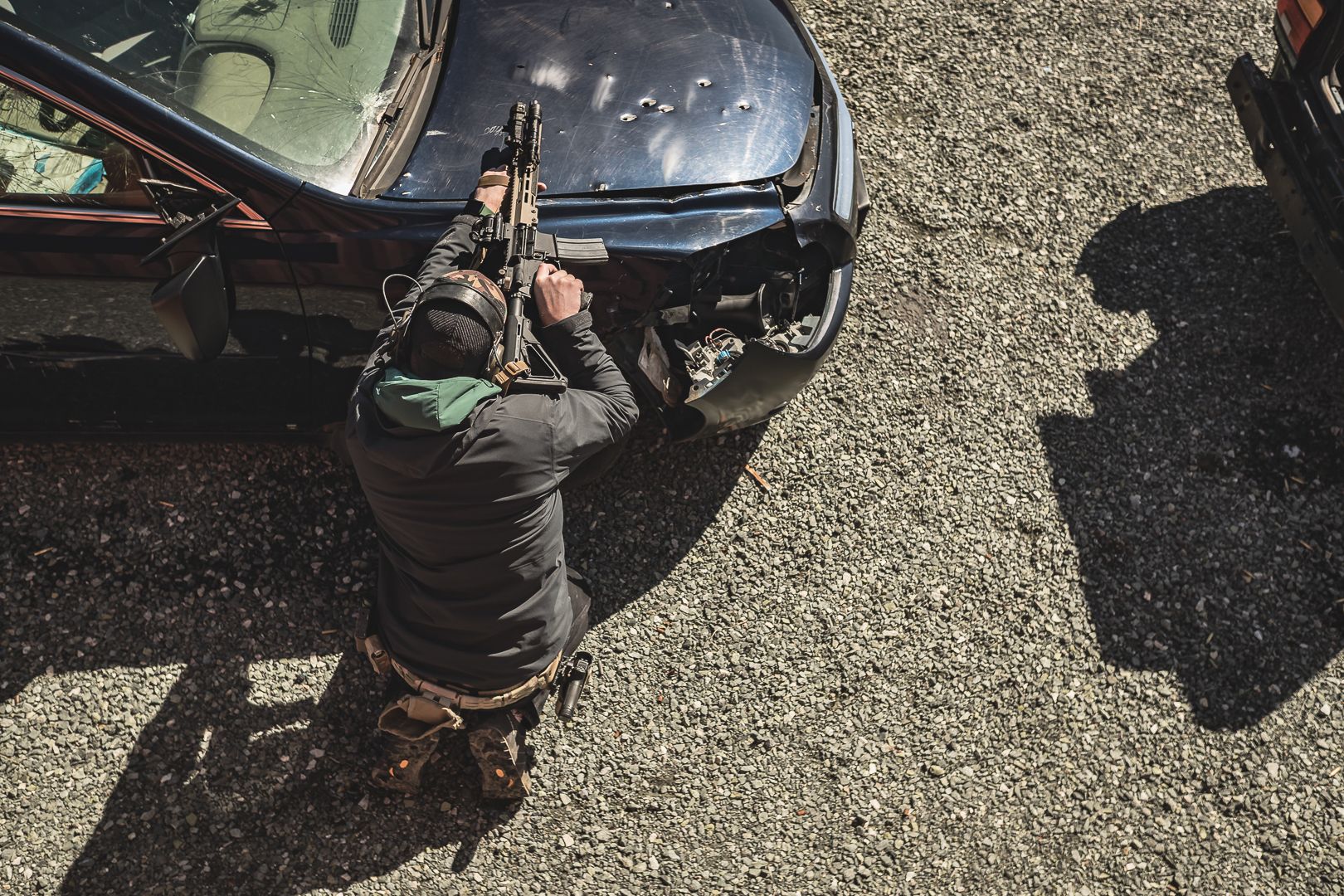 PREREQUISITE / NEXT COURSE:
Prerequisite: This is a Fundamental Skills course. Ridgeline fundamental skills courses have been designed to lay a strong foundation for core skills with the firearm. These courses provide a high degree of instruction and coaching on basic skills. Safe handling skills, such as being able to safely load, unload and present a carbine are mandatory in attending this course. General safe firearms handling is expected of all students.
Next Course: Following graduation of this course students should consider Ridgeline's CQC Carbine, Recce Carbine or Scoped Carbine courses as a next step in their progression. Each of these courses unlocks a different aspect, such as optic type and engagement distances, of the carbine platform.
Subjects Covered:
Equipment selection
Carbine setup and nomenclature
Weapons handling
Sighting systems
Common zero types and process
Loading procedures

Loading
Unloading
Reloading

Basic carbine marksmanship
Weapon presentations
Sling usage and management
Alternate shooting positions
Malfunction clearance
Cleaning and maintenance
Equipment List:
SAFETY:
Eye Protection
Ear Protection
FIREARM REQUIREMENTS:
Carbine (Red Dot Sight with Magnifier or LPVO)
2 Point Sling
(4) Magazines
INDIVIDUAL EQUIPMENT:
Belt
Holster
Magazine Carriers
Athletic/Outdoor Footwear
Weather Appropriate Clothing/Gloves (Cold/Rain/Mud)
Note Taking Material
The Following Items are ALLOWED and/or RECOMMENDED
SUPPORT GEAR:
Knee Pads
Shooting Mat
Gun Cleaning Kit
Gun/Optic Tools
Batteries for RDS/LPVO
Batteries for Ear Pro
Anti-Fog for Eye Pro
NICE TO HAVES:
Sun Block
Chapstick
Insect Repellent
Handwarmers
Cooler with drinks
Lunch/Snacks
Camp Chair/Stool
All course purchases are final and subject to Ridgeline's Terms and Conditions that include a no cancellation/no transfer policy.
All course purchases are final and subject to Ridgeline's Terms and Conditions that include a no cancellation/no transfer policy.